Celebrate Kabuki Irving With A Special Roll & All Day Happy Hour!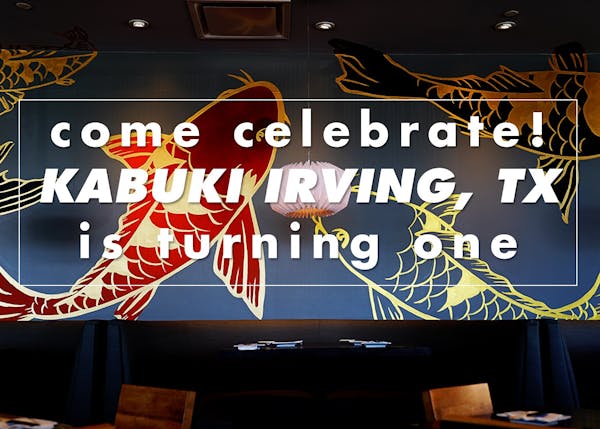 Kabuki Irving is turning one, so we are bringing you the festivities! Read on for our All-Day Happy Hour, the exclusive sushi roll and the Kabuki Sushi Speed Eating Championship on April 6th at the Toyota Music Factory! Cheers to you, Texas!
THE LONE STAR ROLL
The Lone Star Roll was created just for Texas! The roll is made with marinated grilled skirt steak, tempura green beans and avocado, garnished with house-made Spicy Tuna, seaweed salad and masago and served with a generous drizzle of eel sauce. The Lone Star Roll is available only in Texas during the month of April, so come in and try it at a special price of $15. While supplies last!
KABUKI SUSHI SPEED EATING CHAMPIONSHIP
How fast can you eat a 5 foot sushi roll? Or watch 10 contestants compete in Kabuki's Sushi Speed Eating Championship for a $300 Kabuki Gift Card, Live Nation Tickets and a free night at the Holiday Inn Express. Want to be a contestant? Sign up here! If not, come and watch the championship. Audience members stand to win free sushi rolls, t-shirts and more!
ALL DAY HAPPY HOUR
What's a party with no food? Enjoy happy hour pricing all day on April 6th! Feast on sushi rolls, Japanese draft beer and our house wines at happy hour pricing. Check out our happy hour menu here!