Kabuki Japanese Restaurant Holiday Hours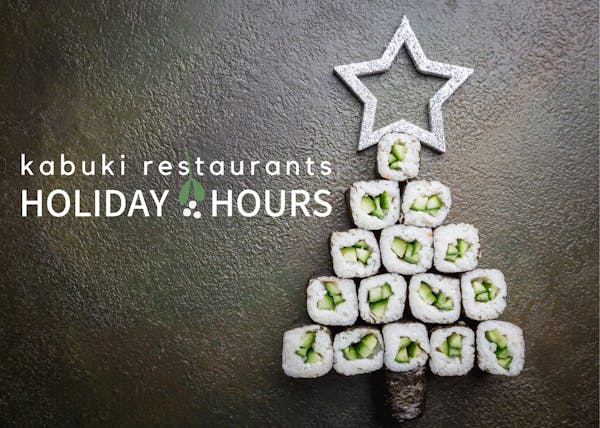 It's the most wonderful time of the year! Don't you just love the holiday season? You know what would make it that much more special?? Having you here to celebrate with us of course! It's a time of giving thanks and spreading joy but all-year we are truly grateful for your loyalty to Kabuki Japanese Restaurant.
Below are our business hours for the holiday season this year.
ALL Kabuki Locations with exception to Kabuki Irving and Kabuki Old Pasadena
Thanksgiving Day | Thursday, November 28th – Closed
Christmas Eve | Tuesday, December 24th – 11 am – 9 pm
Christmas Day | Wednesday, December 25th – 11 am – 10 pm
New Year's Eve | Tuesday, December 31st – 11 am – 10 pm
New Year's Day | Wednesday, January 1st – Regular Business Hours Resume
Thanksgiving Day | Thursday, November 23rd – Closed
Christmas Eve | Tuesday, December 24th – 11 am – 9 pm
Christmas Day | Wednesday, December 25th – 11 am – 10 pm
New Year's Eve | Tuesday, December 31st – 11 am – 5 pm
New Year's Day | Wednesday, January 1st – 5 pm - 10 pm
Thanksgiving Day | Thursday, November 23rd – Closed
Christmas Eve | Tuesday, December 24th – Closed
Christmas Day | Wednesday, December 25th – Closed
New Year's Eve |Tuesday, December 31st – Regular Business Hours
New Year's Day | Monday, January 1st – 5 pm – 9:30 pm
For more information, please look at the specific Kabuki locations page or call your nearest location