Kabuki Irving Celebrates One Year Anniversary with VIP tasting and Sushi Speed Eating Championship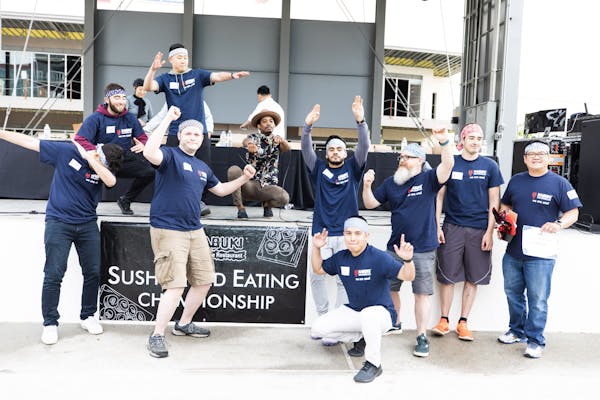 To celebrate Kabuki Irving's first anniversary, we thought we'd give back to the Irving Community by hosting an all-media dining experience and Sushi Speed
Eating Contest inviting contestants to see how fast they can eat a 5 foot sushi roll.
The tasting featured our some of our iconic specialty rolls, dishes we've crafted just for the Irving market and an introduction to our exciting new Specialty Sips sponsored by our partnership with Suntory; all made possible by lifestyle beverage company Mr. Gold. They even engraved our ice cubes with their logo. Over twenty top social influencers and culinary bloggers attended such as Melody Rose @myeverydaylifestyle, China Latina @chinalatinadfw and Mely of @foodie.qt

They commenced the experience by attending a Toki high-ball station where they witnessed that Mr. Gold does not play when it comes to crafting cocktails!

His precision is incredibly exciting to watch, good news for Kabuki guests as that's how he also trained our staff in all locations. The cocktails were paired to enhance our dishes and included the Lai Lani with our fresh Sashimi Platters, Water Lily Haku with the Sunkissed Roll and Kabuki Old-Fashioned with Seafood Paella .
We also created a special roll inspired with Texas on our mind aptly titled "The Lone Star Roll" available through our birthday month of April.
We also served our juicy Tonkatsu, Spicy Beef Ramen, Garlic Beef Yaki and Banana Tempura for dessert.
After the tasting, the party joined 9 brave contestants ; Samuel, Chris, Ron, Alejandro, Lee, Angel, Corby, Tony and Shane in the Toyota Music Factory's Texas Lottery Plaza.
MC/DJ Denzel Andrew roused the crowd with fun anthem hits that the crowd couldn't help but sing and dance along to as all the contestants' friends and family all came to cheer and support. One even made it a point to tell us this was the "most fun they had in a long time. "

As our CEO David Lee took to the stage to say a few words about Kabuki, the nine tables with five foot sushi rolls of California, Veggie and Spicy Tuna were ushered out, the clock was set and they were off. They all gave a valiant effort as the crowd began to build with curiosity until the grass area was packed!
Everyone was jumping up and down, dancing, laughing, cheering and coming together as one--the best kind of energy and community building spirit ensued. The Emcee kept the spirit alive with plenty of jokes to egg on the contestants. Finally, after 10 minutes and 55 seconds; Tony Lin won!
He brought his lovely family along and they came up to the stage to help him collect his winnings of $300 Kabuki Gift Card, VIP Live Nation Tickets of his choice $500 value and a free stay at the Holiday Inn! All contestants received their $25 registration fee bag in a Kabuki Gift Card, personalized certificate of completion and other fun gift bag swag.
Almost all of them came to Kabuki afterward to celebrate with their family and friends.
It was a great event. We made so many new friends connected to the Irving community and hope it was an unforgettable evening for all. We hope to share our love of savoring good food even better drinks, celebrating life and spending time with family and friends; that's what is most important in life, right?
Check out this great video re-capping the event by
Kabuki Irving Sushi Speed Eating Championship 2019
all Contest photos and Video by Derek Malone
https://www.derekmalonephoto.com/